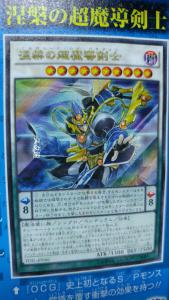 Nirvana High Paladin
Level 10 DARK Spellcaster-Type Pendulum Effect Monster
ATK 3300
DEF 2500
Pendulum Scale: 8
Pendulum Effect:
(1) If your Pendulum Monster attacks, that monster is not destroyed by battle, and battle damage you take as a result becomes 0.
(2) At the end of Damage Step of your Pendulum Monster's attack: Until the end of the turn, all monsters your opponent controls lose ATK equal to that attacking monster's ATK.
Monster Materials and Effect:
1 Tuner + 1 or more non-Tuner Synchro Monsters
If you would Synchro Summon this card, You can treat 1 Pendulum Summoned Pendulum Monster you control as a Tuner.
(1) If this card is Synchro Summoned using a Pendulum Summoned Pendulum Monster as the Tuner: You can target 1 card in your Graveyard: Add that card to your hand.
(2) If card is destroys an opponent's monster by battle: You can halve your opponent's LP.
(3) If this card in the Monster ZOne is destroyed (by battle or card effect): Place this card in a Pendulum Zone.
My Overview Of The Card
This card is powerful for stats alone. A monster with 3300 atk and2500 def is good for a level 10 monster especially when its higher than "Leo, The Keeper Of The Sacred Tree." But when that monster effect comes into play, its gg right there. Really, when summoned properly it gets any card back from the grave and if that wasn't enough, it can have your opponents life points if it destroys a monster by battle. Now its pendulum effect is pretty strong as well, just by preventing your monsters destruction and battle damage alone is good, but when it causes all your opponents monsters to lose atk equal to the monster's atk that just attack, then your looking at a very high chance for otks. Now, I don't know how your opponent will get around this card, but if they do, it will just go to the pendulum zone and just make your opponents day even worse. But hey, at least it only needs a synchro monster and a pendulum summoned pendulum monster to treat a tuner.